THE WITCHES' SABBATH AT YULETIDE

Christmas Witchcraft in 17th-century Finnmark (Arctic Norway)
Weihnachtserzählungen auf Leben und Tod
Written by Rune Blix Hagen
Department of Archaeology, History, Religious Studies and Theology, University of Tromsø – Arctic University of Norway
(Translated by Mark Ledingham)
© Rune Blix Hagen, 1997-2020
(For en noe endret norsk versjon av denne julefortellingen, se P2-Akademiet, fra desember 2009)
One Christmas Eve, while Mari Jørgensdatter was lying in bed, the Devil came visiting. Having awakened Mari, he insisted that she go to Kirsti. Mari did as the Devil requested. The Evil One asked Mari if she would serve him, while the two of them headed off on the road to Kirsti's abode, saying that she would be richly rewarded. Mari consented to this. As a sign of their agreement, the Devil left his mark by biting between the two longest fingers of her left hand. The Evil One called himself Saclumb. Together he and Mari proceeded until they finally arrived at the one called Kirsti. Kirsti told Mari that she was to leave for Lyderhorn, in the vicinity of Bergen, but in order that Mari might arrive there as quickly as possible, Kirsti cast a spell on Mari, turning Mari into a raven.
The story of Kirsti Sørensdatter and Mari Jørgensdatter begins in this way, as presented in old legal documents from Finnmark. Both of these women originated from Kiberg which, at the beginning of the 17th-century, was among the largest fishing villages in Finnmark. The legal proceedings against Mari occurred at Vardøhus Fortress, in January 1621, while Kirsti's case was tried at the same site in the end of April. These women belong to a lot of more than one hundred people who, as a result of the witch processes in 17th-century Finnmark, were crushed by officials in power. Numerous witches, as we soon shall see, would confess in court to satanic rites which were conducted during Christmastide. Let us take a look at what the legal documents reveal about Mari and Kirsti's witchcraft.
Before Mari could fly to Lyderhorn, outside of Bergen, she is reported to have met several other sorcerers at a place called Baldvolden, on the outskirts of Vardø. Most of these were women, as seen from the names on a list of numerous sorcerers from eastern Finnmark, but there were also two men among these. The 'troll devils' , as they were referred to in legal proceedings, came from Kiberg, Vardø, Ekkerøy, Vadsø and other smaller fishing communities along Varanger Fjord. One after the other, they all arrived at Baldvolden on Christmas Eve. There they consumed ale before continuing on their journey. Turned into ravens, dogs and cats they all flew through the air, at extreme haste, on their way to Lyderhorn. Once there, they held their witches Sabbath with much dance and great drink. They left for their homes in Finnmark, following this Sabbath - all that is except Kirsti who flew onto Bergen.
<![if !vml]>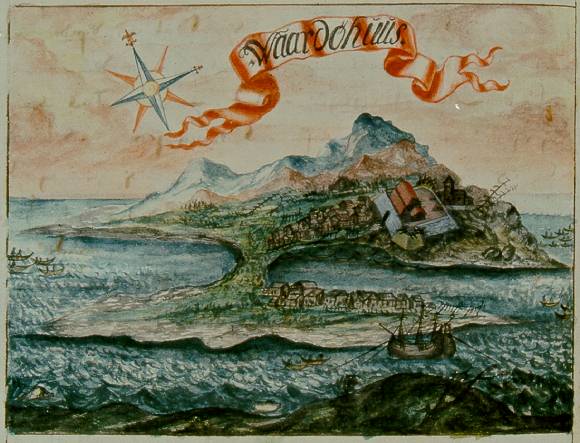 <![endif]>The fishing community of VARDØ - Waterpainting by Lilienskiold c.1698.
Between 1601 and 1663 there were about 70 witch-trials in Vardø - the witch capital of Norway.
Mari Jørgensdatter is the one who confesses to this in court. The Sabbaths at both Baldvolden and Lyderhorn, according to her testimony, had occurred numerous times at Christmas; the last time was reportedly on Christmas Eve in the year 1620. Mari's confessions to a Devil s pact and Sabbath were inadmissibly grave. Comparatively, confessions of this kind were adequate enough to condemn several thousand European women to their deaths at the stake, at this time. Mari, however, had more to narrate: her witchcraft, she confessed, had even been used to harm fellow villagers in the Kiberg- Vardø region. It was by means of Mari's confession in court, and gradually those of many other women, that the court now came to know of the cause behind a tragic event which struck the fishing population in 1617.
In 1617, on Christmas Eve, a horrible storm blew across eastern Finnmark. This sudden and unexpected change in weather conditions afflicted many fishermen who had gone out fishing to obtain sustenance for the Christmas holidays. Sixteen boats, with fishermen from Vardø, and seven boats, with men from Kiberg, were out at sea that day. Ten of the boats capsized; among these, six originated from Kiberg, while four came from Vardø. Forty fishermen drowned and, in a folk tune which tells of this tragic event, we find the following:
On the ten boats were forty men:
some married and others mere boys.
Then was heard great cries of woe
among fatherless children and widows low.
Even though the villagers were used to calamities at sea, the disaster of 1617 must have cast long-lasting bleakness upon those left behind. Neither Vardø nor Kiberg had more than 150 inhabitants. If we compare the pre-1617 census to those of the following years, a discernible reduction in the number of inhabitants is apparent in the two villages. The villagers, though, sought after explanations for the violent storm. These causes were found in the sorcery trials that were uncovered during the winter and spring of 1621. Accused of having brewed up this Christmas Eve storm, approximately ten women were burned at the stake for their hideous deeds in pact with the Devil.
Why, however, did three years pass from the 1617 disaster until the legal system began accusing certain women of witchery? The Danish-Norwegian anti-sorcery legislation first appears in October 1617. Nonetheless, this legislation was not enforced in Finnmark until 1620. It was first then that it was possible to persecute large numbers of people accused of sorcery in these fishing communities.
Else Knutsdatter, from Kiberg, appeared at court in January 1621. She divulged how the witches joined in on the 1617 Christmas Eve storm. They (the witches) got hold of a piece of string and tied three knots. A curse was cast on the knots, the witches spit on them, and they then untied the knots. "Like stirred ashes, the sea's mighty froth was unleashed and people drowned", according to the court records. In Else Knutsdatter's unfortunate case, she was put through the so-called "water test" before confessing her "crimes": her persecutors threw her out to sea, in mid-winter, and she floated - something which was a sure sign of her guilt and pact with the Devil.
Ane Larsdatter, from Vadsø, was interrogated by the court in February 1621. She refused to say anything and, as a result, she too was thrown out to sea. Her "confession" rapidly followed. When the court wished to know why she was silent before the water test, Ane answered that the Devil had the power to tie the tongues of witches so that they could neither cry out nor utter a word. The purpose of the water test and other means of torture, in other words, were to release the witches from the Devil's snare. Ane, it is reported, had met the Devil himself one Christmas Eve. He was woolen to the touch and had horns. On the Christmas Eve in question, Ane flew through the air with the Devil, from Vadsø to Baldvolden in Vardø, where Ane met the other witches. They were 40 witches altogether, according to Ane, who celebrated a Sabbath at Baldvolden. She arrived back in Vadsø on the first day of Christmas, just as the church bells rang in acknowledgement of the Christmas Day services.
Several of the women who were interrogated in January and February of 1621 reported that Kirsti Sørensdatter was their leader; she was their "admiral" as they preferred to call her. Kirsti, as already noted, was condemned to the stake at the end of April 1621. She was the last woman to have witnessed the chain of events which, in 1621, claimed the lives of at least ten women. Having been threatened with torture, Kirsti confirmed what the other women had told. She, too, could substantiate what had occurred during the witches' Sabbaths held at both Vardø and Lyderhorn. In addition to the women, Kirsti could also tell of having seen two men at the Sabbaths. One of them was none less than the Bailiff of Lapp Finnmark himself - Bertel Hendriksen. None of the men whom Kirsti and other women pointed out as accomplices were brought to trial, however. Kirsti was convicted as a witch and condemned to death by burning at the stake. Having travelled by sailing ship, from Bergen, Kirsti was arrested upon arrival in Vardø. She is also known to have been married to Anders Johansen - a well-to-do citizen of Bergen and an important tradesman with connections to several Kiberg families.
The witch process of 1621 was the first of numerous such proceedings in Finnmark. It would become much worse later. According to the old legal documents uncovered, the Finnmark witches had reportedly continued to celebrate Christmas in the company of the Evil One throughout much of the 1660s. In the autumn of 1662, a number of events were started in eastern Finnmark which would prove to be Norway's worst case of persecution. More than 30 women accused of witchery, of which some were mere girls, were brought before the court. Of these, approximately 20 women were found guilty and burned at the stake. And at least two women were tortured to death before receiving sentences.
<![if !vml]>
<![endif]>DOMEN - Waterpainting by Lilienskiold c.1698
During the winter of 1662/63 more than 30 women were accused of harmful witchcraft. These events would prove to be Norway's worst case of persecution. Many of the women told the court that they had been celebrating, dancing and drinking with the Devil at a mountain called Domen. Domen can be found between the small fishing villages of Kiberg and Vardø. The mountain is only about 125 meters high. The down-path to Hell was believed to be found here.
(See "At the Entrance to Hell" - below)
Records of the court proceedings, as written in the hand of the chief magistrate, tell of the fate of a small girl called Ingeborg Iversdatter who was born in Vadsø. A judicial inquiry, dated 26 January 1663, shows that Ingeborg had celebrated Christmas Eve in Kiberg in the company of another girl and two women. The circumstances surrounding this gathering were rather unusual. On Christmas Eve of 1662 Ingeborg and a woman called Sølvi Nilsdatter were imprisoned at Vardøhus Fortress. Both of these were suspected of having practiced sorcery and were waiting to be put on trial. They managed to escape from the fortress though by turning themselves into cats. As cats, they crawled under the main gate and were whisked away by the Evil One to Kiberg. There they met Maren Olsdatter, a mere girl, and Sigri - the wife of Kiberg's sexton. The Devil himself made it possible for these two to travel from Vadsø in order to participate in the Sabbath. Altogether, they proceeded to Anders Pedersen's cellar where they tapped ale and drank heartily. The Evil Satan spewed fire out of a horn and illuminated the room in this way. Sølvi and Sigri, however, began to argue and fight and Sølvi drank such quantities that Satan had great toil when returning her to Vardøhus Fortress later that very same evening.
To summarize, it seems apparent that the powers of darkness have been just as active in Finnmark, on Christmas Eve, as in many other instances of Nordic folklore.
---
From 1593 - 1692, there were about 140 witch trials in Vardøhus (known today as Finnmark, the northernmost county in Norway near the Russian border.) About 100 of the witches, mostly women, were burned at the stake, and approximately 27 of the witch trials in Finnmark affected the indigenous people of Norway - the Sami people.
References
The initial passages of this article are based upon District Governor Hans Hanssen Lilienskiolds' sorcery manuscript (c. 1695), which is neither recorded nor printed in other sources. This manuscript may be found in Copenhagen's Royal Library. Lilienskiold made use of old court records - of which major portions of the 1621 records have been lost.
The sorcery reports of District Governor Lilienskiold were published in October 1998 under the title:
HANS H. LILIENSKIOLD. Trolldom og ugudelighet i 1600-tallets Finnmark
Rune Hagen and Per Einar Sparboe (eds.)
Ravnetrykk 18, Universitetsbiblioteket i Tromsø: 1998
ISBN 82-91378-19-3
The book has 312 pages, including an English summary
The court records of January 1663 originate from Finnmark's Tingbok (Vol. 5), which is deposited in the files of the Chief Magistrate of Finnmark, at the Tromsø division of the Norwegian National Archives.
Håvard Dahl Bratrein has recorded the entire text of the aforementioned 1617 folk poem in an article published in Håløygminne, No. 1/1979, pp. 181- 184.
---
A Norwegian version of "The Witches' Sabbath at Christmas Eve" is published with the title "HEKSENES JUL. Trolldomsvirksomhet rundt juletider i 1600-tallets Finnmark" in the North-Norwegian journal Håløygminne, Hefte 4-1997:96-100
And there is an extended version of the story called:
Varangerheksenes julefest, published in Varanger Årbok 2002 (p.14-24).
Short version in Norwegian language: Trolldomskriminalitet i mørketid, Ekko og Gatemagasinet Virkelig, Mørketidsnummer 2016: 6-9.
A Norwegian short version of the story:  Justismord med julemotiv   
---
SATAN IN THE NORTH
As can be seen from the Christmas story above, many witch trials were recorded as having occured in the sparsely populated Finnmark during the 17th-century. One of the explanations behind these brutal witch trials, of which there were many, can be found in the notion of inherent evil in the northern regions. Finnmark belonged to the outermost realm of Christianity in the North. Satan, it was believed, could be found in the forebidding northern spaces at the ends of the earth. This is where the prince of darkness had his abode.
<![if !vml]>
<![endif]>
Based upon scanty Biblical evidence, 16th-century clergymen, lawyers and philosophers claimed that evil and sorcery originated in the North and that this was conveyed on northern winds. Bitterly cold northern winds were known to howl with a terrible dread and infernal roar. The northern regions, having emerged as Satan's realm, could easily be taken for a hothouse of sorcery and blasphemy. When it became attractive for the Dutch to sail between Vardøhus and Russia, in connection with the trading practices conducted during the second-half of the 16th-century, the Dutch philosopher Guillaume Postel (1501-1581) warned his countrymen of the dangers involved in challenging Satan on his own home turf. The North was said to be the haunt of demons and devils with its heinous cold and wicked winds. Among those who were most active in the Arctic were the demons of the air. These could conjure mighty whirlwinds. Postel characterized Europe's northernmost outpost as the kingdom of Antichrist. During the final decades of the 16th-century, members of the Scottish, Danish and Swedish royal families came to feel the curses of Norwegian witches in their confrontations with poor weather, fog, thunder and lightning along the coast of Norway. Nautical sorcery was a specialty of Norwegian witches. The French jurist and political scientist, Jean Bodin (1530-1596), could tell his terrified readers of how the North swarmed with sorcerers. In no other European country are there more witches than in Norway. They torment people all day long and all through the night, Bodin reported. And among the people of northern Scandinavia, many were supposedly tremendously skilled in sorcery. Witches of the far North could raise storms with the Devil's help. Here magical winds could be bought from the Sami, according to Johan Freitag, a German surgeon, for a mere slant. This was recorded in his 1616 manuscript. "I am not speaking of legend and myth," Freitag reassured his readers - in a book on the abuse of medicine. The English gave up attempts at the beginning of the 17th-century to find a North-Eastern sea route (the Northeast Passage) to China after their encounters with pack ice, severe cold and poor weather. Several Englishmen, however, were known to have told of the torment of witches in the North, as a result of these experiences. Henry Peachom, for instance, related how the world's most notorious witches were to be found in the far North (1622). Norway is a detestable nation where many are renowned for their sorcery, wrote John Barclay in 1631. A compatriot, George Sandys, followed up likewise the year after by explaining that Satan, the lord of the air, was the one assisting the witches of Norway and Lappland.
---
At the Entrance to Hell
Fantasies concerning the entrance to hell could be quite specific at times. When the long-stretched mountain, Domen (between Kiberg and Vardø), was revealed as the haunt of massive witch sabbaths, in 1662, the entrance to hell was also localized. Several accused witches, and a couple of younger witches less than twelve years old, could tell during several witch trials of their visits to hell. In long extracts taken from the legal proceedings, we can read about women and children who tell of the road to Satan's woeful abode and their ultimate stay there. The prince of darkness himself had shown them the character and wonder of this place. Hell appeared as a long black valley. At the bottom of this valley was a lake. The water boiled when Satan spewed fire out of an iron pipe. A twelve-year old girl could tell court officials how Satan held a piece of fat in the water for a brief moment and that it cooked immediately. Women and men lay screeching like cats in the same water. Satan told the little girl that she, too, would come to burn in the water as compensation for her services. Devils and demons were known to have spread across the world from a cave inside Domen. The commotion stirred by these witches was horrendous in and around the cave entrance. From here, these polar people unleashed their natural powers and worked great mischief by casting spells upon all of Europe. The so-called "nordsending" could be felt as the cold and harmful winds of the northern witches that led to illness among the pious. Shuddering and rheumatic infections followed in the wake of these cold northern and north-eastern winds. And behind it all, full of wrath and hate, was the northern Satan.
This kind of notion was widespread throughout both the 16th- and 17th-centuries. Such was the case in travel literature, cartography, among historians, in ethnographic accounts, among diplomats, in geographical volumes and demonological studies. Portrayals of the Lappland witches were a favourite motif in literary fiction during the 17th- and 18th-centuries. The expression, "the Lappland witches," is well-known among renowned writers like Daniel Defoe, Henry More, John Milton and Jonathan Swift - to name a few.
---
Some of my articles on witchcraft and witch trials in Arctic Norway:
The witch-hunt in early modern Finnmark
Acta Borealia, Volume 16, 1-1999:43-62
At the Edge of Civilisation: John Cunningham, Lensmann of Finnmark, 1619-51, printed in
Military Governors and Imperial Frontiers c.1600-1800 - A Study of Scotland and Empires,
Edited by A.Mackillop and Steve Murdoch Brill - Leiden and Boston, 2003:29-52
(See also: http://ansatte.uit.no/rha003/Edinburgh.html)
Early Modern Representations of the Far North. The 1670 Voyage of La Martinière
ARV-Nordic Yearbook of Folklore, Vol.58, 2002:19-42
Abstract:
A book entitled Voyage des pais septentrionaux was published in Paris in 1671. Based upon an expedition that the Frenchman Pierre Martin De La Martinière had undertaken to the far north the previous year, his travel narrative became one of the most famous of its kind, and unequaled in its drama and suspense. This article looks at what he experienced on the northern Norwegian coast and in the Arctic. A study uncovers, too, all of the strange sights and sounds that he claimed to have met upon his way. According to the 1671 report, he penetrated into a region devoted to all kinds of wildness and bestiality. His attempts to portray foreign lifestyles and his encounters with the extreme Other illustrate how the north was typically depicted in the early modern era. And because La Martinière was interested in the wind magic of the northern peoples, this article also focuses on the role of weather magic in the numerous witch-trials of Arctic Norway. His travel narrative is one of the first of many marking the rise of the fashion for the North at the end of the seventeenth century. From an historical point of view, these particular descriptions prove to be valuable as sources for the history of travel.
Key words: Travel writing, 17 century, Northern peoples, Arctic, Northern Scandinavia, Finnmark, Weather magic, Witch-trials, Wind knots, Sami, Cultural encounters.
Images, Representations, and Self-Perception of Magic among the Sami Shamans of Arctic Norway, 1592-1692, Contesting Orthodoxy in Medieval and Early Modern Europe Heresy, Magic and Witchcraft Editors: Kallestrup, Louise Nyholm, Toivo, Raisa Maria Palgrave Historical Studies in Witchcraft and Magic, Springer 2017.
Abstract:
Described as the Septentrionale peoples, the inhabitants living in the high north of Europe, came to be seen as uncivilized barbarians by continental Europeans during the late medieval and early modern period. Misery and demonic darkness were thought to cover a land populated by savages and terrible monsters. Learned Europeans, in the Renaissance humanist tradition, wrote about the innate cruelty of northern peoples and spoke of the dreadful and repulsive wildness with distaste. Since ancient times the Europeans had thought of the indigenous people of North Europe, the Sami, as a population with inferior ethnic elements and evil heathery sustained by extraordinary spiritual abilities and ritual magic. Because of these widespread notions, the Sami came to be infamous as Lapland Witches.
The article starts with an outline of learned European images connected to the extreme north with a special focus on the representations of pre-Christian rituals and magic acts among the Sami. The second part deals with the witchcraft persecution of the Sami in Finnmark, the northeaster county of Denmark-Norway, during the seventeenth century. The author discusses to what extent the brutal witch-hunt against the Sami was exposed the European images and representations of the north as the realm of sorcerers and magicians. 
---
Weihnachtserzählungen auf Leben und Tod
Rune Blix Hagen, AHR, Tromsø
Beschuldigungen, Zeugenaussagen und Geständnisse in zahlreichen Hexenfällen aus norwegischen Gerichtssälen aus dem 17. Jahrhundert sind oft so fantastisch, daß sie nahezu als gruselige Weihnachtsmärchen gelesen werden können. Die Geschichten in den alten gelbbraunen Justizprotokollen sind jedoch voller Ernst und in tiefer Verzweiflung geschildert. Die Menschen erzählten ihre Geschichten buchstäblich in einem Kampf auf Leben und Tod. Die Schilderungen über den Umgang mit den wilden Polarnacht- und Winterdämonen aus dem arktischen Norwegen kostete viele Dutzend Frauen das Leben. Die frühneuzeitlichen Hexenprozesse, die in Norwegen zwischen 1570 und 1695 stattfanden, zählen zu den schlimmsten Menschenverfolgungen in der norwegischen Geschichte.
Die Folklore, die in diesen Hexenprozessen vorkommt, bestätigt, daß Weihnachten eine Zeit war, wo der Kontakt zwischen dem Jenseits und der wirklichen Welt besonders intensiv war. Es finden sich reichhaltige Hinweise auf Weihnachtsmotive in norwegischen Hexereifällen.
Im Herbst 1662 begann ein brutaler Hexenprozess in der Ostfinnmark, der sich zur umfassendsten Hexenverfolgung in Norwegen entwickeln sollte. Mehr als dreißig Frauen, darunter auch einige Mädchen unter zwölf Jahren, kamen vor Gericht und wurden der Hexerei angeklagt. Achtzehn Frauen wurden für schuldig befunden und verbrannt. Außerdem folterte der Henker mindestens zwei Frauen zu Tode, bevor es zu einem endgültigen Schuldspruch kam. Eines der Mädchen, das die ganze Zeit standhaft behauptete mit dem Teufel ein weihnachtliches Stelldichein gehabt zu haben, wurde zu einer Zuchthausstrafe in Bergen verurteilt.
Der Amtsrichter beschrieb Ingeborg Iversdatter im Gerichtsprotokoll als ein kleines Mädchen, geboren in Vadsö. Im gerichtlichen Verhör am 26. Januar 1663 erzählte Ingeborg, daß sie den heiligen Abend zusammen mit einem anderen Mädchen und zwei erwachsenen Frauen im Fischerdorf Kiberg verbracht hatte. Die Umstände dieses Treffens in Kiberg waren ungewöhnlich. Am heiligen Abend 1662 saßen nämlich Ingeborg und eine ältere Frau namens Sølvi Nilsdatter als Gefangene in der Festung Vardøhus. Auf der Festung saßen beide im sogenannten Hexengefängnis – eine Bezeichnung, die im Gerichtsprotokoll gebraucht wurde - hinter Schloß und Riegel.
Sowohl das Mädchen, als auch Sølvi waren der Hexerei verdächtigt und warteten in Untersuchungshaft darauf, daß ihr Fall vor dem lokalen Gericht verhandelt werden würde. Während sie einsaßen, entkamen sie jedoch aus der Festung, indem sie sich in Katzen verwandelten. In Gestalt umherschleichender Katzen krochen sie unter dem Haupttor durch und der Gehörnte führte die beiden durch die Nacht nach Kiberg. Dort trafen sie die zwölf Jahre alte Maren Oldsdatter und Sigri die Frau des Nachtwächters in Vadsø. Mit Hilfe des Teufels waren auch diese zwei entlang des Varangerfjords durch die Lüfte geflogen, um am Weihnachtsfest teilzunehmen.
Als ungeladene Gäste drangen die vier in den Keller des wohlhabenden Kaufmannes Anders Pedersen ein, zapften dort Bier und tranken reichlich. Der "böse Satan" blies Feuer aus einem seiner Hörner und leuchtete ihnen auf diese Weise. Eins der Mädchen sagte unter dem Verhör, daß dem Teufel eine Kerze aus dem Hintern ragte. Sølvi trank so viel Met, daß selbst der Teufel Probleme hatte, sie später am Abend zurück zur Festung Vardøhus zu bringen.
Der Pfarrer Herr Hans in Vardø mußte feststellen, daß die bierdurstigen Hexen ungebetenerweise auch in seinem Keller zu Besuch gewesen waren und sich am Weihnachtsgebräu vergriffen hatten.
Während des Verhörs von Sølvi Nilsdatter in Vardø gegen Ende Januar 1663 kamen mehrere Geschichten mit dem Weihnachtsmotiv ans Tageslicht. Am heiligen Abend 1661 war ein gigantischer Hexensabbat auf dem Dovrefjell abgehalten worden. Die Hexen kamen durch die Lüfte geflogen und bevölkerten das Bergmassiv während der gesamten dunklen Weihnachtsnacht. Quasi als geheimer Frauenbund versammelten sich die Zauberhexen zu einer lustigen Gesellschaft mit viel Bier, Wein und Tanz. Einige der Hexen, die auf ihren schnellen Hexenbesen aus dem Norden gekommen waren, kamen in Gestalt von Hunden und Katzen und waren daher schwer zu erkennen. Im Mittelpunkt des Festes stand der Teufel selbst, in Gestalt eines langen, schwarzen Hundes. Er kredenzte den Teilnehmern Wein und tanzte mit allen nacheinander. Während des Tanzes mit Margrete Jonsdatter ging es so heftig zu, daß die Fischersfrau aus Vardø ihren einen Schuh verlor. Glücklicherweise verschaffte ihr der Tanzkumpan, also Satan selbst, unverzüglich einen neuen Schuh. Diese ernste Schilderung aus einem alten Justizprotokoll kann als eine Variante des klassischen Märchens von Aschenputtels Tanz mit dem Prinzen gesehen werden.
Sølvis Geschichte ihres lebhaften Tanzes auf dem Dovre wurde als schwerwiegender Anklagepunkt gegen Margrete benutzt. Das Strafgericht nahm sie beim Wort und verurteilte beide Frauen zum Tode auf dem Scheiterhaufen für den schamlosen Weihnachtsabend mit dem Leibhaftigen. Der Scheiterhaufen mit den beiden mutmaßlichen Hexen ging am 20. März 1663 in Vardø in Flammen auf.
Nicht nur weit im Norden des Landes begingen die Hexen Weihnachten mit zweifelhaften Aktivitäten. Schon gegen Ende der letzten Jahrzehnte im 16. Jhdt. erzählten einige Frauen aus Bergen, daß sie an den Feiertagen an Hexentänzen auf dem Fløyen teilgenommen hatten. In Norwegens bekanntestem Hexenprozess gegen die Pfarrerswitwe Anne Pedersdatter in Bergen im Frühjahr 1590 kamen einige pittoreske Einzelheiten aus den weihnachtlichen Festgelagen der Hexen zutage.
Elina, seit mehr als zwanzig Jahren Dienstmagd im Haushalt von Anne, bezeugte im Prozess daß Anne sie während Weihnachten für drei Nächte als fliegendes Pferd benutzt hätte, um auf den Lyderhorn zu kommen. Die Hexen, waren dort zum Weihnachtsmahl versammelt und planten alle Schiffe zu versenken, die die damals größte Stadt des Landes anlaufen wollten. Der Vorschlag, ganz Bergen in Schutt und Asche zu legen und eine riesige Flutwelle zu schicken, war auch Bestandteil der teuflischen Pläne, die die Hexenfrauen ausheckten. Mitten in der Weihnachtsnacht, griff jedoch ein weißer Engel ins Geschehen ein und hinderte die Hexen ihr grausames Vorhaben in die Tat umzusetzen. Während des Hexenprozesses deutete Anne Pedersdatter an, daß Elinas seltsame Behauptungen Ausfluß von Fieberfantasien seien, was ihr jedoch nicht half.
Anne Monsdatter Løset wurde 1680 zusammen mit zwei anderen in Rovdeskjeret in Sunnmøre verbrannt. Anne gestand, daß sie zusammen 1678 mit dem Teufel auf dem Dovrefjell den ganzen heiligen Abend gefeiert hatte. Satan hatte sie unsichtbar werden lassen und als Weihnachtsgeschenk bekam sie einen Teerklumpen mit teuflischen Kräften. Vier andre namentlich bekannte Frauen nahmen auch an der weihnachtlichen Gesellschaft auf dem Berggipfel teil. Diese Prozesse in Sunnmøre gehören übrigens zu den letzten Hexenverbrennungen in Norwegen und sie wurden vom seinerzeitigen Richter in Bergenshus Hans H. Lilienskiold durchgeführt.
In Ytre Nordfjord in Sogn und Fjordane liegt der Bergipfel des Hornelen (860 m.ü.d.M.). Der Berg ist wohlbekannt für seine nächtlichen Hexensabbate sowohl zur Sonnwende (St. Hans in Norwegen; Anm. d. Übers.) als auch zu Weihnachten. Anne Øvreset ist eine der allerletzten Frauen, die als Hexe in Norwegen verbrannt wurden. Bevor ihre Seele durch den Scheiterhaufen 1681 geläutert wurde, schilderte sie, wie die Hexen sich zu rauschenden Festlichkeiten während der Weihnachtsnacht auf dem Hornelen versammelten. Dorthin kamen nicht nur Hexen sondern auch ein Mann namens Jon Hjelle, der die Trommel mit einem Kälberschwanz schlug. Diese Motive mit Kälberschwänzen als Trommelschlegel und Trommeln als Weihnachtsmusik sind wohlbekannt bei solchen Zusammenkünften im Westland. Es soll sogar aufgeschriebene Noten zu einer speziellen Tanzweise geben, die während der weihnachtlichen Treffen des Hexenvolkes auf dem Hornelen gespielt wurde.
Die Verfasser des berühmten "Hexenhammers" (Malleus Maleficarum) aus dem Jahre 1486 legen Wert darauf, daß die Hexen rund Ostern, Pfingsten und Weihnachten besonders aktiv waren. Die Erklärung dafür war, so die zwei Dominikanermönche, die hinter dem Buch stehen, daß diese Hochzeiten am besten dazu geeignet seien die heilige Göttlichkeit zu verhöhnen.
(Übersetzt von Karl-Heinz Valtl )
Quellenangaben und Literaturverzeichnis:
Alver, Bente Gullveig. Heksetro og trolddom: en studie i norsk heksevæsen, Oslo 1971
Eike, Christine N.F. "Oskoreia og ekstaseriter" i NORVEG – Tidsskrift for folkelivsgransking, nr.23/1980:227-309
Gilje, Nils. Heksen og humanisten: Anne Pedersdatter og Absalon Pederssøn Beyer : en historie om magi og trolldom i Bergen på 1500-tallet, Bergen 2003
Hagen, Rune Blix. Dei Europeiske Trolldomsprosessane, Oslo (2007) 2014
Hagen, Rune Blix. Hekser – fra forfølgelse til fortryllelse, Oslo (2003) 2010
Hagen, Rune Blix. «Trollskap og julemystikk i norske hekseprosesser», i P2 Akademiet XLVI, Transit, Otta 2012: 108-122.
Hagen, Rune Blix. Ved porten til helvete. Trolldomsprosessene i Finnmark, Cappelen Damm, Oslo 2015.
Lilienskiold, Hans H. Trolldom og ugudelighet i 1600-tallets Finnmark, redigert av Rune Blix Hagen og Per Einar Sparboe, Tromsø 1998
Tingbøker fra Vardøhus, Sorenskriveren i Finnmark, Statsarkivet i Tromsø
«DØMT TIL Å MISTE SITT LIV VED ILD OG BÅL» - FORFØLGELSE AV TROLLFOLK I FINNMARK
Seventeenth Century Persecution of Sorcery and Witches in the High North, bokartikkel fra 2020 – Free Access
---
Internet

Resources

on

Witch

Studies/

Hexen

im

Internet

/Internettressurser for

hekseforskning

:
Am Einstieg zur Hölle
Norwegian Witches: Lisbet Nypan
SATAN IM NORDEN
Vorestellungen über Samische Zauberkunst  
The Witch-hunt on African Sorcerers
Dei europeiske trolldomsprosessane
---
Den europeiske hekseforfølgelsen - noen fakta
The Shaman of Alta - A witch trial from 1627
Samling av pekere til heksesider
Latest Update: 23.11.2020
© Rune Blix Hagen 1997-2020
Rune Blix Hagen
Institutt for arkeologi, historie, religionsvitenskap og teologi (AHR)
UiT Norges arktiske universitet
N-9037 Tromsø
Tlf.: (+047) 77 64 41 30